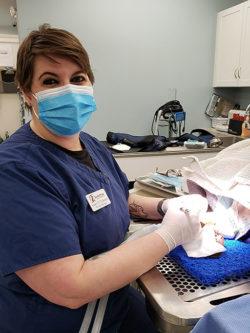 Congratulations to our Veterinary Technician Manager, Amanda for earning her VTS in Dentistry from the Academy of Veterinary Dental Technicians. In order to obtain this special accreditation, Amanda spent 2 years and over 2,500 hours in specialty training/continuing education in a mentorship program.
What is a VTS in Dentistry from the ADVT:
"A Veterinary Technician Specialist (VTS) in Dentistry is a credentialed technician with a special interest in dentistry and oral surgery. They have extensive knowledge and training in these areas (endodontics, exodontics, orthodontics, prosthodontics, and periodontics), however they are not taught nor licensed to perform oral surgery.
"AVDT members also have a vast knowledge base of dental diseases to help educated clients on the importance of oral health and explain potential doctor performed treatments. This interaction often brings the clients a certain amount of ease knowing their pet's dental disease is being treated by highly trained staff members"
We are very proud of Amanda for her hard work and dedication to pet dental health! Congratulations Amanda!